Posts for tag: vaping
By Petra I Mayer DDS
September 29, 2020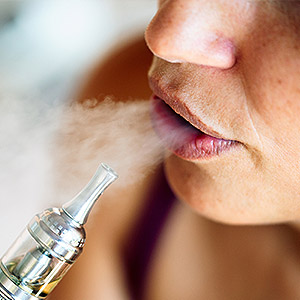 There's ample evidence tobacco smoking increases your risk for tooth decay and periodontal (gum) disease. But the same may be true for electronic cigarettes (E-cigs): Although millions have turned to "vaping" believing it's a safer alternative to smoking, there are growing signs it might also be harmful to oral health.
An E-cig is a device with a chamber that holds a liquid solution. An attached heater turns the liquid into a vapor the user inhales, containing nicotine, flavorings and other substances. Because it doesn't contain tar and other toxic substances found in tobacco, many see vaping as a safer way to get a nicotine hit.
But a number of recent research studies seem to show vaping isn't without harmful oral effects. A study from Ohio State University produced evidence that E-cig vapor interferes with the mouth's bacterial environment, or oral microbiome, by disrupting the balance between harmful and beneficial bacteria in favor of the former. Such a disruption can increase the risk for gum disease.
Other studies from the University of Rochester, New York and Universit? Laval in Quebec, Canada also found evidence for vaping's negative effects on oral cells. The Rochester study found astringent flavorings and other substances in vaping solutions can damage cells. The Quebec study found a staggering increase in the normal oral cell death rate from 2% to 53% in three days after exposure to E-cig vapor.
Nicotine, E-cig's common link with tobacco, is itself problematic for oral health. This addictive chemical constricts blood vessels and reduces blood flow to the mouth's tissues. This not only impedes the delivery of nutrients to individual cells, but also reduces available antibodies necessary to fight bacterial infections. Regardless of how nicotine enters the body—whether through smoking or vaping—it can increase the risk of gum disease.
These are the first studies of their kind, with many more needed to fully understand the effects of vaping on the mouth. But the preliminary evidence they do show should cause anyone using or considering E-cigs as an alternative to smoking to think twice. Your oral health may be hanging in the balance.
If you would like more information on the effects of vaping on oral health, please contact us or schedule an appointment for a consultation.
By Petra I Mayer DDS
November 14, 2019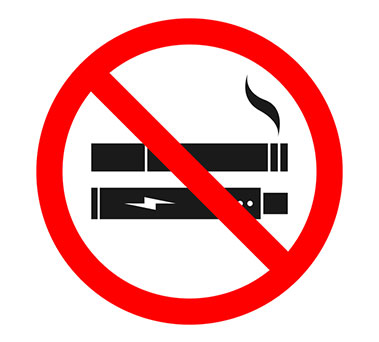 The electronic cigarette (e-cig), the much-acclaimed smoking alternative, has recently been linked to hundreds of lung-related illnesses and deaths among otherwise healthy young adults. But dentists were actually among the first to sound alarm bells on the potential harm of "vaping," particularly to dental health.
If you're vaping as a substitute for smoking, you may be trading one set of oral health risks for another. Many dentists believe vaping may be no safer for your mouth than traditional tobacco.
An e-cig is a small, handheld device that holds a mixture of water, flavoring and chemicals. The device heats the liquid until it becomes a gaseous aerosol the user inhales into their lungs. Proponents say it's a safer and cleaner alternative to smoking. But, like cigarettes, vaping mixtures can contain nicotine. This chemical constricts blood vessels, decreasing nutrients and infection-fighting agents to the gums and increasing the risk of gum disease.
And although vaping flavorings are FDA-approved as a food additive, there's some evidence as an aerosol they irritate the mouth's inner membranes and cause mouth dryness similar to smoking. Vaping liquids also contain propylene glycol for moisture preservation, which some studies have shown increases a buildup of plaque, the bacterial film most responsible for dental disease.
All of these different effects from vaping can create a perfect storm in the mouth for disease. So, rather than switch to vaping, consider quitting the tobacco habit altogether. It's a solid thing to do for your teeth and gums, not to mention the rest of the body.
As we commemorate the Great American Smokeout on November 21, this month is the perfect time to take action. Here are some tips to help you kick the habit.
Don't try to quit all at once. Your body has developed a physical connection with nicotine, so quitting "cold turkey" can be extremely difficult and unpleasant. Although different approaches work for different people, you may find it easier to overcome your habit by gradually reducing the number of cigarettes you smoke each day.
Enroll in a cessation program. There are a number of step-by-step programs, some involving medication, that can help you quit smoking. Talk to us or your doctor about using a cessation program to end your tobacco habit.
Seek support from others. Beating the smoking habit can be tough if you're trying to do it solo. Instead, enlist the help of family and friends to support you and keep you on track. Consider also joining a supervised support group for quitting smoking near you or online.
Smoking can harm your dental health and vaping may be just as harmful. Distancing yourself from both habits will help you maintain a healthier smile and a healthier life.
If you would like more information about the effects of vaping and tobacco use, please contact us or schedule a consultation. To learn more, read the Dear Doctor magazine articles "Vaping and Oral Health" and "Smoking and Gum Disease."
By Petra I Mayer DDS
September 05, 2019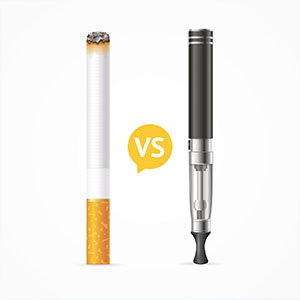 If you think "vaping" electronic cigarettes (e-cigarettes for short) is healthier for your teeth and gums than smoking cigarettes, you might be disappointed with the latest research. A number of studies seem to indicate e-cigarettes could be just as damaging to your mouth as traditional cigarettes.
An e-cigarette is a device containing a chamber for liquids and a means to heat the liquid into a vapor. The user then inhales or "vapes" the vapor, which contains nicotine and flavorings. The heat also pressurizes the vapor causing it to expel as an aerosol into the mouth.
Researchers have found the ingredients and aerosol effect could lead to potential health problems. An Ohio State University researcher found that vaping disrupted the normal balance of microorganisms in the mouth known as the oral microbiome. This imbalance could make it easier for disease-causing bacteria to proliferate, particularly those most responsible for periodontal (gum) disease.
Another study coming out of the University of Rochester and Stony Brook University in New York detected cell damage in gum tissue caused by e-cigarette vapor similar to that caused by regular cigarette smoke. Some of this damage seemed to result from the flavoring agents used in the e-cigarette liquid, as well as nicotine.
Another study from Quebec, Canada appears to concur with the New York study. These researchers found the damage caused by e-cigarette vapor might substantially increase the rate of cell death in oral tissues by as much as 50% over a short period of time. This kind of damage can lead to higher risks of dental diseases like gum disease or tooth decay.
While we don't know the long-term effect of using e-cigarettes on both oral and general health, these studies are alarming: They seem to show vaping may cause some of the same problems as smoking. With the jury still out, the prudent thing to do is limit or avoid vaping altogether to protect your mouth from these unhealthy outcomes.
If you would like more information on the possible oral health effects of e-cigarettes, please contact us or schedule an appointment for a consultation.